Cooling your pup off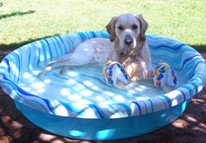 If you want to help your puppy cool down, get a child's wading pool; fill it with water and let them splash around in it. You can put a bone or 2 in the bottom to see if they'll retrieve it. I saw them do this at guide dogs, and the pups went nuts over trying to get the bones out. Be aware...male dogs, for whatever reason, like to pee in the pools, so try to relieve your pup right before, or even a few minutes after they start playing...putting feet in water must be the stimulant.
After they have played in the water is a great time to trim nails because they'll be a lot softer to cut!
Just be aware that water causes pups to shed like crazy! So brush them a lot before going into the pool. Then once they are dry, you'll want to brush them again because you'll have lots of doggy dust/hair devils running around your floor if you don't. Pups like to chew on ice cubes too, so you can give them ice cubes any time.